Meet Us

---

About the Department
Departmental Values, Goal and Mission Statement
Meet the Officers
Judgement Day for a Police Officer
About McGregor and Marquette, Iowa
Mcgregor and Marquette City Code
The Mar-Mac Unified Law Enforcement District encompasses the cities of Marquette and McGregor, IA. The District was created in December of 1999 as a way to make law enforcement affordable for both cities. Prior to its creation, each city had its own department. Each Police Department frequently relied upon the other for assistance and required many officers to police the individual communities. The City Fathers of each community saw that this was very inefficient and decided to disband the individual departments and create a "Police District." To this date, it has been proven to be very successful and many smaller cities in Iowa inquire about how they too, can try this innovative change.
The Department currently has three full-time officers and five part-time reserve officers. Due to the large area that has to be covered, each full-time officer is assigned a squad car. The Department has two D.A.R.E. Officers that teach the program in the M-F-L Mar-Mac Community School District grades K thru 5. In the past year, officers have received training in how to respond to incidents where weapons of mass destruction are used, verbal judo, and street survival, the Reid method of Less-Lethal Ammunition, Interviewing and Interrogation, and firearms training. The Department also has officers trained in hostage and critical incident negotiations. All of the Departments Officers are members of the Clayton County Law Enforcement Association that meets monthly to train and exchange information about criminal activity in the area. The full-time officers are members of the Iowa Association of Chiefs of Police and Police Officers.
The Mar-Mac Police Department is a proactive department that handled over 1129 calls for police service, 93 arrests and 1001 traffic citations, warnings, and parking tickets were issued in 2005. The Department participates in Iowa's sTEP Program that promotes both education and enforcement of Iowa's seat belt and child restraint laws. In 2002, as a part of that program, a Child Safety Seat Inspection Point was provided for parents and family members of small children could have a certified Child Safety Seat Technician inspect the child safety seats for proper usage and installation. Mar-Mac Police are part of Iowa's "I Pledge" program which promotes both education and enforcement of Iowa's tobacco laws. The Department receives state funding to participate in both the "sTEP" and "I Pledge" Programs.
Departmental Values, Goals, and Mission Statement
VALUES - Mar-Mac Police Officers are committed to serving the community with dignity, honesty, respect, sincerity. Integrity, and to value the public and our co-workers as individuals.
GOAL - The goal of this Department is to set the standard as a leader in the criminal justice system by striving to maintain a safe environment and by providing the highest level of professional services to the individuals within our jurisdiction.
MISSION - Our mission is to provide progressive public safety to fulfill the diverse needs of citizens through the expertise of our professional staff and the utilization of all available resources.
Chief of Police

Randall A. Grady
rgrady@
marmacpolice.org
Chief Grady has been a police officer since 1991. Prior to becoming a police officer, he was in the Army and participated in Operation Desert Storm. In 1997, he became a D.A.R.E. Officer. In his spare time, Chief Grady enjoys fishing and being outdoors with his wife Sarah and three children Kaitlyn, Elizabeth, and Eric.
Personal Message: A winner never quits, and a quitter never wins. To be respected, you must respect others first.
Officer

Jason Bogdonovich
jbogdonovich@
marmacpolice.org
Jason has been in law enforcement since 2002. Prior to becoming a police officer, he attended Chippewa Valley Technical College, where he studied Police Science. Jason is one of two D.A.R.E. Officers on the Department. In his spare time, he works in the Transportation Department at the Isle of Capri.
Personal Message: Never give up on yourself or others and you will accomplish your goals and dreams.
Officer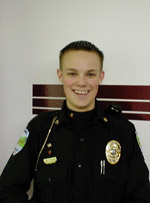 Dylan Rumph
drumph@
marmacpolice.org
Dylan has been in Law Enforcement since 2006. Prior to becoming a Police Officer, Dylan attended Northeast Iowa Community College in Calmar, where he studied in Criminal Justice. Dylan is the Fifth Generation in his family to be a Police Officer. In his spare time, Dylan enjoys the outdoors and hunting.
Judgement Day for a Police Officer
The policeman stood and faced his God, which must have always come to pass.
He hoped his shoes were shining just as brightly as his brass.
"Step forward now, policeman. How shall I deal with you? Have you always turned the other cheek? To my church have you been true?"
The policeman squared his shoulders and said, "No, Lord, I guess I ain't, Because those of us who carry badges can't always be a saint."
"I've had to work most Sundays, and at times my talk was rough, and sometimes I've been violent because the streets are awfully tough."
"But I never took a penny that wasn't mine to keep... Though I worked a lot of overtime when bills got just too steep."
"And I never passed a cry for help, though at times I shook with fear. And sometimes, God forgive me, I've wept unmanly tears."
"If you've a place for me here, Lord, it needn't be so grand. I never expected or had too much, but if you don't... I'll understand."
There was silence all around the throne where the saints had often trod, as the policeman waited quietly for the judgment of his God.
"Step forward now policeman. You've borne your burdens well. Come walk a beat on Heaven's street. You've done your time in hell."
--author unknown--

About McGregor and Marquette, Iowa
Marquette and McGregor www.mcgreg-marq.org are nestled between the bluffs and the river in the extreme northeast corner of Clayton County. Our Cities are blessed with the beauty of plentiful wildlife and scenic parks. Marquette and McGregor are the homes of Pike's Peak State Park, Effigy Mounds National Monument, and the birthplace of the Ringling Brothers Circus. Spook Cave & Campground is also in the area and only a short drive away.
If you need a break from hiking, fishing, and camping in our beautiful area, Marquette is the home of the Isle of Capri Riverboat Casino. McGregor and Marquette also host many flea markets and craft shows throughout the year.