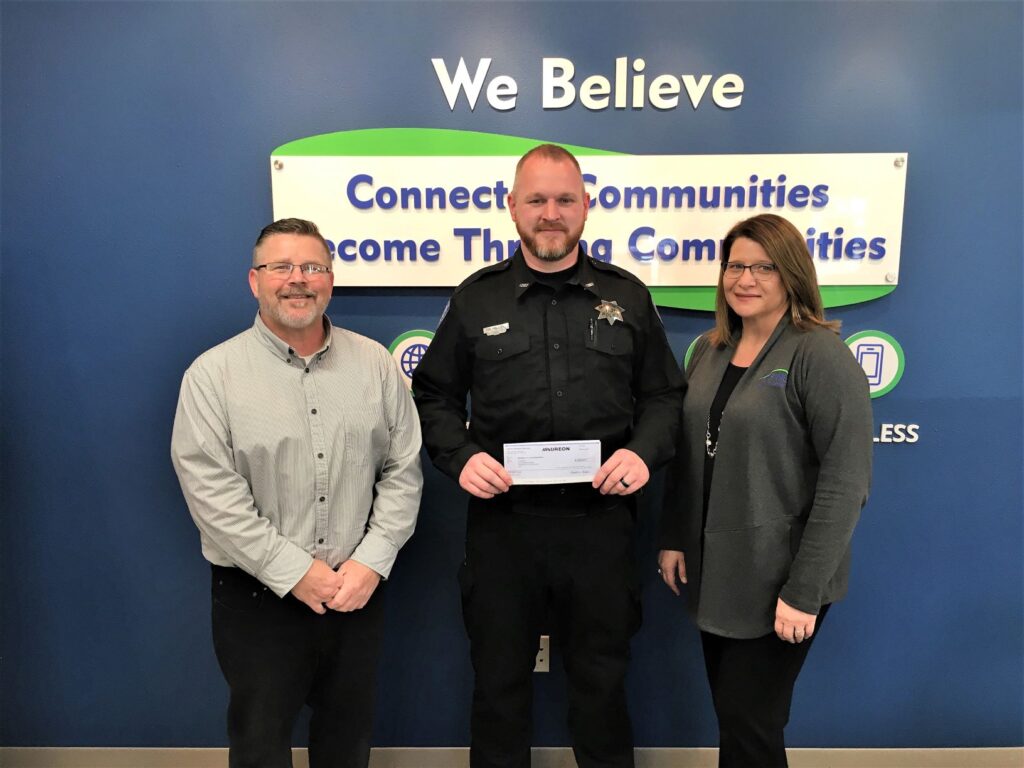 On January 30, 2020, the Mar-Mac Police Department was notified the agency would be awarded $1,500 through the Aureon Charity Grant.
The $1,500 will be used toward the replacement of the department's portable and mobile radios.
In February of 2019, the Iowa Stateside Interoperable Communications System Board (ISICSB) discussed the operational health of the current statewide Law Enforcement Agency (LEA) VHF conventional network. After consulting with manufacturers and utility companies, the ISICSB decided to decommission the LEA network effective October 31, 2020 and activate the newly constructed Iowa Statewide Interoperable Communications System (ISICS).
Due to the upcoming decommission of the LEA network, many Iowa law enforcement agencies will no longer be able to communicate with other law enforcement agencies without significant upgrades to their communication equipment or replacement of mobile and portable radios. Unfortunately, the Mar-Mac Police Department is one of the many agencies that would require the replacement of all the department's radios.
During a cost survey, the total cost to replace all the department's radios is $36,624, or approximately 14.5% of the agency's total budget. To help alleviate the financial burden of this project, the replacement of the radios will be distributed in three phases as determined based on available funding.
"Alpine Communications appreciates the efforts of the Mar-Mac Police Department. Their passion and dedication to advancing our community greatly impacts us all," Chris Hopp, General Manager, Alpine Communications. "We are proud to partner with Aureon to make this grant possible."
"Aureon is delighted to support nonprofit organizations that enhance the quality of life for Iowans," said Scott Behn, CEO, Aureon. "We look forward to aiding future community-improvement projects and extend our best wishes to your community."
The Mar-Mac Police Department is very grateful to the Aureon Charity Grant for the $1,500 contribution to the radio replacement project. If any person or business is interested in contributing to the radio replacement project, please call Chief Robert Millin at (563) 873-2500.
Aureon is a business solutions provider who connects possibilities to productivity by providing unique and scalable business support services for organizations — small and large. Headquartered in the heart of the Midwest, and serving clients nationally with a presence in 48 states, Aureon offers a comprehensive suite of support services, with a focus on Technology, HR, Consulting, and Contact Center services. Aureon's unique combination of talent, technology, and tools enable clients to focus on their core business. For more information, visit Aureon.com.
Robert Millin, Chief of Police
Mar-Mac Police Department